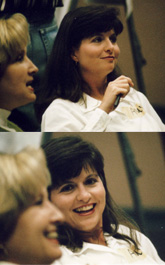 When
an organization wishes to educate large numbers of people, of course it makes sense to have our firm design and conduct activities custom built to meet their needs. If, however, the numbers of people to be educated are modest, it is probably more appropriate to have those people participate in our public programs. We offer a variety of sessions all built on the skills and principles of group dynamics.
Our
schedule of current offerings
is available here on this site, but there are a few general issues that are worthy of consideration:
On occasion
, we are asked if we believe it is appropriate to have several people from a particular organization participate in one of our open enrollment sessions. Experience has shown that this works out extremely well. We find that by attending our programs with organizational colleagues, people develop lasting partnerships that serve them well as they return to their organizational roles and continue to apply the skills they have developed in our sessions.
In contrast
to a program we would offer to an intact organizational group, there are particular virtues to the freedom implied by participation in our public programs. As one might expect, there are benefits to "getting away" from the familiar setting of work, and from the familiar social setting of interaction with one's organizational colleagues. In our public sessions, we build upon these benefits to generate a climate that encourages individual growth and skill development.
For people
from all over the world, the notion of "spending a week in Portsmouth, New Hampshire" has taken on a meaning far beyond that of a pleasant visit to a most interesting New England town. For these people, such a visit has become an expression of the opportunity to learn and grow in ways that often have life-long benefit.