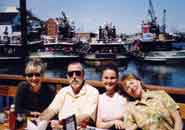 To Contact Sole & Associates, Inc.




If you would like to reserve seats for any of our programs, or if you have questions about the seminars or other aspects of our work, please:


Call our office at 866-659-3169

FAX your request to 603-659-2248

E-Mail: admin@soleassociates.com

or write to:
Sole & Associates, Inc.
Box 292
Durham, NH 03824-0292.

We would be happy to hear from you.

To be added to our mailing list,
please complete the form below.